Hello!
My name is Katie and I am a stay at home mom. I have always loved and owned horses.
I was in search for a cinch that would allow my mare to breathe better as she always seemed to have a sweat mark where the neoprene cinch would be even if I was not working her hard. I did a great deal of research about mohair and I found how beneficial it is for my horse. When searching for information, I've come to find out that a lot of cinches at the tack store that state 100% mohair, are not. Instead, they have some mohair but are also blended with other fibers, so you do not receive the the full benefits of mohair. Due to that reason, I did more research on the best places to buy 100% mohair and decided to make my own. I now know what my cinches are made out of and that I can trust.
I was surprised on how soft and strong mohair is. Everytime I would cinch my mare up with the neoprene, she would stick her gut out and I would have to wait a few minutes to tighten once she relaxed.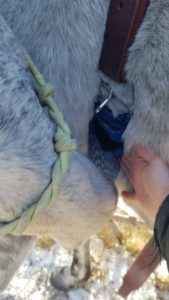 When I started to cinch her with the mohair, she instantly turned her head and put her nose on the cinch and was sniffing it. When doing research I read that horses actually like the smell of mohair. I was able to tighten the cinch without her sticking her gut out. I then started thinking to myself "which one would I rather have against my belly? The neoprene that feels like rubber, or the mohair that feels like the hair on top of my head?" It was not hard for me to answer that question.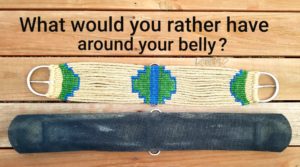 When riding my horse, I want to use a cinch that is comfortable, flexible, wicks away moisture and does not restrict my horse. To me, a comfortable horse is a happy horse. A happy horse is a willing horse.
You might be wondering how I came up with the name Jumping Joker Mohair. Well my heart horse's name is Joker and he loved to jump! Joker was my 14th birthday present. We would practice everyday and compete at northern MN saddle clubs WSCA and Arrowhead game events. We also completed in rodeos, NBHA and WSCA champ show.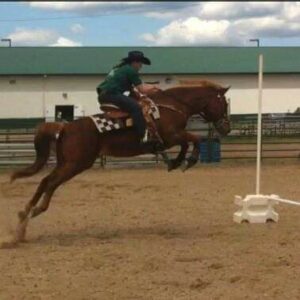 The logo is an actual picture of us at his last horse show in 2013. I then decided to retire him as he would run his heart out for me and I did not want to jeopardize him getting hurt.
On August 5, 2019, Joker went on to greener pastures. He lived a wonderful 28 years on this earth. Joker had completed many tasks during his life. But I do believe what made Joker the most happiest was during his later years where he was able to teach my two-year-old daughter how to ride and get multiple treats and brushings from her daily made his heart the happiest up until his last day.