Jumping Joker Mohair sponsorship application is closed for this year 2023. Thank you for your interest.
Jumping Joker Mohair 2022 Sponsored Riders
Mason
Hello My name is Mason Elhardt, I'm 10yrs old. I live in Bigfork Minnesota. I have 3 horses I competed on this past season. Levi (my main guy) CJ and Runner. All my horses are in their 20s (you'd never know it). I love competing in Barrel racing, games and I love chasing cows and trail riding. I'm a member of WSCA and PEWC. I've been competing on horseback since I was 14 months old in leadline classes. I started to ride independently at 3yrs on my pony Spirit.
I love riding and friendly/healthy competition! My mom of course is my Idol, she has taught me everything I know as a rider, horse owner and competitor. She pushes me when I need to be pushed and comforts me when I mess up or have not the exact run or ride that I was hoping for. As I've gotten older I understand if you dont put the time in you cant expect much. I dont ride in the winter alot but during the summer it's not often I'm not on horseback!
As Mentioned earlier I have been on horseback as soon as my body would hold me up. I've been competing as an independent rider for 7 years. This past 2021 I competed and hauled more than I have ever done and accomplished alot! I joined PEWC and I finished #1 in Minnesota 1D for peewee and #2 in the 1D national standings. I also won the SLC summer series, Balkan & BCC series for Peewee barrels. I ran in youth and open as well and was a 3D average winner twice and reserve 3D in the Open classes against what my mom calls "running with the big dogs"..

In 2022 I hope to go to State Fair and Champ show as it will be my last year in Peewee division for WSCA games. I started to do some pole bending in 2021 and really liked it so IM going to enter pole bending more this 2022 season as well.
I'm going to join NBHA and MPBA in 2022 and will continue running PEWC & some WSCA. Although I dont think I'll be running in the Peewee classes for barrel jackpots anymore, my mom says I'm ready to step out of peewee and let the kids learning to advance have the arena to themselves. Confidence is a big key to success! You will see me around this 2022 season on my main guy Classiest Dial Yet aka Levi. I have another younger horse in the making too that IM sure I will be on sometimes as well this season.
A fun fact about my main horse Levi is that he is relation to the FIRST big horse I rode and competed on, Ruby. She was 24 when she had a tragic accident and had to cross over. She is what pushed me to my next level of competing and now her sibling Levi has brought me to the level I'm at now!
I wish everyone a great, safe and happy 2022 season!!
Mason Elhardt
Addy
Hi im addy Boorman. Im now 7 years old. In 2nd grade. I have 5 brothers. And soon a baby sister coming in May. Which Gramma Shelly is happy another cow girl for her to ride with.
I love my horse hottie, Katie always make sure she looks great. Gramma said it might be time to pick out a new set for her. Hottie is alot like me a spit fire. Full of heart and give. I have loved learning on her. New for me this year gramma had a chance to buy her old barrel horse Cj back. The one she traded to get Hottie for me to learn on. So this year i will be tring to run Cj also. Grammas dream to have a granddaughter or son to run her. She old but still has alot to teach me. Cj has the best breast collor made by Jumping joker mohair already. Gramma said the collor has a specIal meaning to remeber Kelby.
This year my goals are to have fun learn lots. And to make my Gramma proud which she tell me everyday she already couldnt be prouder of me if i tryed.
Thank you Jumping Joke Mohair for letting me be apart of your team last year. And i hope i have the Chance to make you proud of me again this year.
Savannah
Hello, my name is Savannah Moinichen. I'm 15 years old and I'm in the 10th grade and I go to school at Grand Rapids high school. I've been riding horses since 4th grade and I've always had a big interest in barrel racing. My horses name is Side he's a 7 years old appendiz gelding. I first met Sid as a training project for my previous boss. Sid had a rough life before I bought him. He was very thin and afraid  of simple tasks. When I met Side, I was training him for someone then I decided to buy him. M first time lunging him, he kicked out at me and ran, trying to get away. After time and work, he started coming around. I was able to start riding him and eventually start him on the barrel pattern and other WSCA games. Side is now an amazing all around horse that I can take anywhere, have fun on and is a kid and beginner sage. I like to go to jackpots and WSCA shows with him, where we continue to show and improve every show.
I also like training horses in multiple discipline and working with problem horses. I'm also in the GRFFA chapter at my high school, on the horse judging team. I've enjoyed learning about proper conformation in horses and how it can affect them and their soundness and how it can affect their career.
Kaitie
I'm an Kaitie Laitala and I am 13 years old. My horse name is Axle. He's grull color he's about 10 years old. By the way I am not the fastest but I try. Me and my mom have three horses. I have been around horses for all my life. My aunt is Jess Barto, she is really nice as an aunt. Matt Laitala is my brother. I hope you enjoyed.
Erin
Hello! My name is Erin Pocquette, and I am a math and science teacher in a very small northern Minnesota school. My husband and I have two kids, both boys, thatwe love dearly. One of them, Connor, loves to ride with me. My youngest son, Eli,thinks that things with a motor and gas pedal are more exciting and interesting than horses.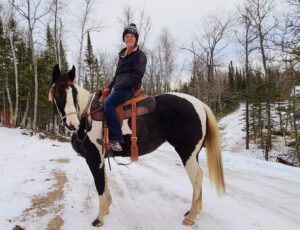 I recently had to say goodbye to my heart horse named Becca, but I am eternally grateful to have a young APHA mare named Marley, her registered name is Strait Poker Chip. Marley will be my main horse this year, and I am so excited to see her come into her own and be the rock star that I know sh e can be! Marley is young, and I am excited to be a part of her journey. I have two other horses, Jammer, who my mom rides, and Charlie, a big teddy bear gelding that my son Connor rides. I like to participate in various equine disciplines and have an all around horse that is capable of doing a little
bit of everything. I trail ride, compete in WSCA game shows, have dabbled in English riding, and I have goals to try cow sorting in 2022 as well!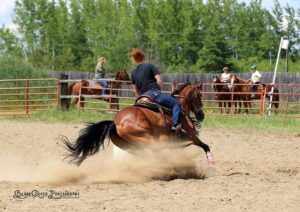 I grew up dreaming of having a horse of my own, and when my youngest son was around 7 months old, I purchased my first horse in 2016. I have really only owned and been consistently riding for 5 years. I often need to remind myself how far I have come in such a short amount of time in the scheme of things! When I bought my first horse, I had no intention of ever gaming, and all I wanted to do was trail ride. I have never been a fan of being "on the stage" in front of others, and competing in individual events is totally out of my comfort zone, but I have come to love showing horses. After my first show, I think that I was hooked on the adrenaline rush, the excitement, and the shouts of support from spectators that I had never even met. I also still love to trail ride and horse camp! I have always enjoyed the outdoors, so combining two hobbies is ideal! I love to camp and challenge my horse with trail obstacles. Any time spent with my horses is time well spent!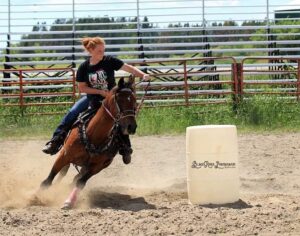 I am inspired by numerous people in my life, some horse people and some not. My dad was never afraid to take risks, and lived life on his own terms. He taught me to be independent and take pride in my own accomplishments. My mom is one of my biggest role models. She is kind, always looks out for others, works hard, and is quietly strong. She fights the toughest battles in a quiet way with grace, determination, and unwavering strength. My husband is also someone that I admire greatly. He has been my rock through some tough battles, and he always pushes me to be my best self, chase my dreams, and do my own thing regardless of the opinions of others. In the horse community, I am inspired by those who put their horse first, support and encourage others, and never miss an opportunity to help or teach someone else something that they may not know. Being relatively new to the horse community, I know how much the support and those willing to educate makes a difference and is appreciated.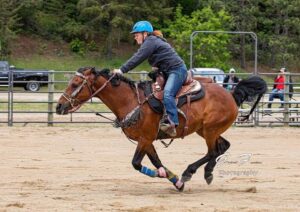 My goals for the 2022 year are to have fun, show my young horse more of the sights, participate in a few clinics, learn as much as possible, make a camping trip to one of the mountain ranges out West, and cheer as loudly as I can for others. I want to spend many hours in the saddle trail riding and enjoying a common hobby with my oldest son, my mom, and some close friends. Having lost my heart horse, a dear friend, and my dad in the last year, my goals this season focus on strengthening my bond with my young horse, cherishing each and every moment that I am blessed with, and
enjoying all of the beauty in the world around us.
Sammantha
Hi My name is Sammantha Oles I'm 15 years old and in 10th grade. I have been riding sense I can remember and have been competing sense I was seven, I rode everything at first then I fell in love with western gaming I loved the speed and the feeling of adrenaline. I have 3 horses that I show, first I have Panama he's a 14 year old dun paint, he's my world I have him more than anything but because of lameness issues he might not be on my
2022 racing team. Then I have Willow she's a 5 year old roan grade mare we got her from the slaughter house in 2019 and ever sense then I've loved teaching her the patterns and helping her learn new things. Then last of all I have Ollie he's a 6 year old paint and I got I'm in July and sense I got him I have fallen in lace and I'm very excited for are 2022 season.
My biggest accomplishment was winning ninth and stayed with my horse Panama it was one of the best days of my life. But I couldn't have done it without my best role model my mom she's the one that got me started into riding and has been my biggest supporter sense I wouldn't be were I am now without her.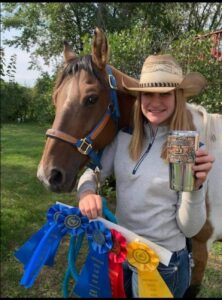 My 2022 goals are to stay safe, go to as many jackpots and horses shows as possible, and bond with my horses so much more!

Serena
Hi my name is Serena McNamara. I grew up in a very small town, Balsam on a 40 acre farm. I learned everything about horses from my mom and from my rescue horse Shalimar. I rescued him when I was 14 and he was 5. He's been my rock and for sure my heart horse. I've owned him for 11 or 12 years now. I'm hoping our boarder will lease him out so he can be used or he can have a summer off. He deserves it. My discipline is western I haven't tried anything else yet but would love to try English one day. I have only been to small fun shows but this year I'm super excited to use my friend's horse since I've retired Shal and my new mare Prim isn't broke yet. So hoping to get out to as many shows as I can this year. My role model would honestly be Melissa Stuckey. She just seems to always have the answers and is so good with explaining and taking the time to explain things to you.
Last year I completed my equine and canine massage certification and started my own massage therapy business, called Pent Up Ponies Canine & Equine Bodywork LLC. I also am an independent Bemer distributor. Bemer really is amazing! In March I plan to complete my certification for K taping so that will be super interesting to learn more about!
Hannah
I began my gaming career at the famous Balkan Arena, those that live on the Iron Range know how deep those roots run. I then moved from gaming to barrel racing under the two best horsemen I was blessed with. My parents were incredibly supportive of my horse obsession and my mom had introduced Todd and Stacy Nelson to my life. They have truly made me the rider I am today, and they taught me what is means to work hard, how to truly put your horse first, and that a good foundation goes a long way.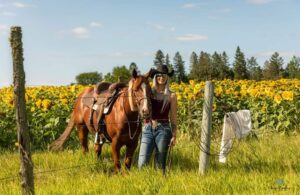 I currently own and will be entering my 4-year-old mare. Neat Spicey Lights AKA Midget has saved me more times that I can count in our journey together. She has exceeded all my expectations and has turned out to be one my favorites yet.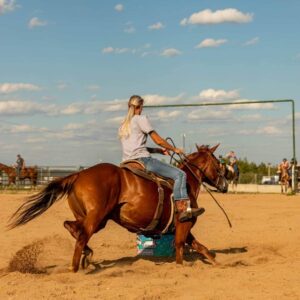 My story is unique in some sense in my opinion. I had lost my significant other to suicide five years ago. That period was by far my darkest point in my life. I couldn't function honestly. I had to send my futurity colt to a trainer who would now become a great friend of mine. I moved out of state for a bit, fell in love again and found out we were expecting our son all in such a short period of time. I had to give up my horses temporarily until three years later when I impulsively bought Midget as a two-year-old. She was going to be my project to sell come spring to help me afford something finished. I have found the things that are meant to be often come when we least expect them. I dedicated my entire soul to get this little red mare to trust me, and when she decided I was worthy of her trust we have become an amazing team. I consider her my one in a million because I don't think I ever will have another bond like I do with Midget. She gave my fire and passion back, that dimmed from one of the greatest losses I had in my life. She reminds me that good things take time, and even the ones that aren't believed in can make something out of life to the extent that most of my tack is meant to bring suicide awareness at each run I will be attending from this year forward.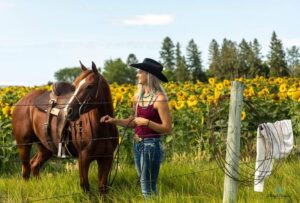 I plan on making this season my comeback, not that I plan to be winning these big races, but to be best horseman I can be to help set up each horse up for success. If I can inspire anyone that is a win in my book, especially showing people you can be "gone" for a few years and come back to show them hard work truly does pay off. You never know who is watching you from outside the arena that may need that hope for themselves. 
Kinzie
Hi, my name is Kinzie Melvie. I have been riding since I was 7 years old, until one day, my 11th birthday I got my first horse, and her name is Salsa. Salsa and I have a huge bond that cannot be broken. Salsa and I have been together for almost 11 years. Salsa has won me multiple 4-H State Horse Show Trips and winning buckles for Pole Bending. Poles was her favorite, but she hates barrels worth of passion. So, I had to upgrade to a younger horse to run barrels. So, I decided to buy my blue roan mare that I run barrels with now, her register name is Peppyz Boonberry, her barn name is blue or booboo.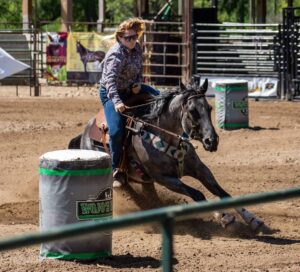 I am currently a Pro Elite World Challenge member, and I am a National Intercollege Rodeo Association member cope with the South Dakota State University Rodeo Team.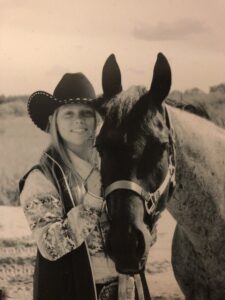 My hometown is Viking Minnesota, about seventy miles out of the Canadian Border. I am looking forward to traveling a lot to North Dakota, South Dakota, Wisconsin, and Minnesota. I am going to college at South Dakota State University majoring in Animal Science and minoring in Equine Studies and Horse Management. This summer I will be traveling down to Texas to do Equine Dentistry schooling as my spare time. In the future, I will be going back to school for Farrier Schooling.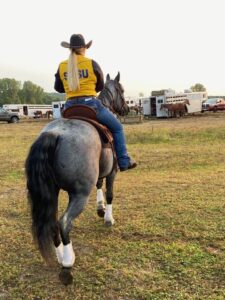 What really motivates me is traveling to jackpots and rodeo and camping in my living quarters horse trailer. Hailey Kinsel and Lisa Lockhart are my role models, they do not give up on their hobby, and they have a special bond with their horses. Blue and I have huge goal for this 2022 season! Our first goal is being in the top 10-15 for any rodeo from the NIRA in any short goes. Our Second goal is in the Top 5 in the 2D Open for PEWC also be in the Top 3 in the PEWC Derby 1D. I am looking forward to being a part of your team!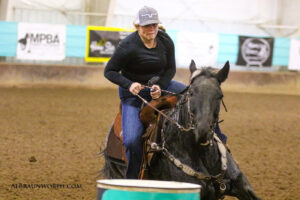 Faith
Hey there, my name is Faith Olson! I have two horses currently, my main boy is Tucker! Tucker is a BLM mustang and will be 21 this year and still acts like a 5 year old! We go all over northern Minnesota competing in barrel races. We as a team have come so far in the last year, and even in his older age, he keeps getting better and faster! He and I have accomplished so many goals and dreams in the almost 4 years we've been competing, from buckles at local barrel series, competing at higher level races and placing well,  joining NBHA and PEWC, going to those higher level events in those organizations and winning buckles and placing, to ending up at the top of our division in NBHA and almost made it in PEWC as well.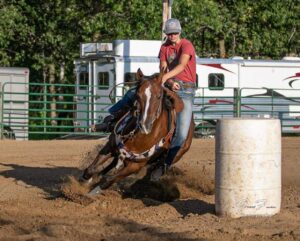 My second horse is "Fancy Huck Kid" aka Huck, he will be four this spring and will be my upcoming barrel horse! A couple years ago we had a colt challenge at my barn and I looked in the pasture and saw him and I knew right then and there, that was my colt. It's pretty cool to say that I did all the work on him, from step one to where he is now! He is one of the coolest horses I know and I can't wait to see what he can do in a barrel pen! We are starting on our barrel journey this spring once it warms up!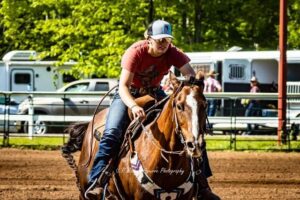 I myself train horses for the place where I board, and have done so for roughly 4 years now. What started out as just riding (I had no idea what to do when it came to training), turned into training after many mistakes and clinics and a lot, and I mean a lot of learning. This summer will be my first year where I open up to outside horses, and I am so excited! Currently I am finishing up getting my business degree, after that will be my summer of training and racing, then I have an internship lined up under a reining trainer to further my knowledge and grow as a trainer and I cannot be more grateful for the opportunity and just excited for the next stage in my life! Eventually I plan to own my own performance horse line down the road!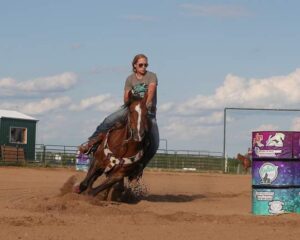 I cannot thank Jumping Joker Mohair enough for having me for another great year with big big plans! I am so glad to have her by my side as I accomplish all my goals while repping her beautiful mohair!
Tiffany
Hello, I am Tiffany and I am so proud and honored to be sponsored again by Jumping Joker Mohair. I strive to be a continual student of the horse and through that process I have discovered some of the advantages of mohair tack. My paint mare has broken withers. Because of this saddles tend to roll a little extra on her. I am also not a fan of overtightening a cinch. My properly sized Jumping Joker Mohair cinch has enabled her to stay comfortable while I stay safe 🥰 I couldn't be more thankful!
This year I hope to hit a few more rodeos, some lessons, a bunch of jackpots and continue to grow and learn as a horseman. But, most importantly, I hope to continue to help foster the love of horses to the next generation. Namely my two children but let's be honest anyone who will listen! 😅
I try to keep it simple with my horses. I believe it should be fun and you have to love the horse before the sport. I hope to see everyone out and about this year !😘😁
Jessica
I am excited for another year with Jumping Joker Mohair! Last summer we consistently crushed our times/goals! My sponsorship with JJM keeps us looking great for pictures but mostly I love having high quality mohair that is extremely comfortable for my horse and easy to clean! Headstall, halter, breast collars, front and back cinch's- I pretty much have them all . Any custom ideas I have come up with has been a major hit making it come to life! Wait till you see what we came up with this year !
I am also great full for her sponsorship for the series I run and all the high quality awards she makes for the riders!
As always thank you Katie for believing in my team, the series, and being a amazing asset to the barrel racing community!