Jumping Joker Mohair 2021 Sponsored Riders
Addie
Hi Im Addie Boorman. Im 6 year old in 1st grade. Just starting to ride by myself which has been a blast. 2021 will be my 1st year running barrels with my gramma. She always said its her dream to have one grandbaby do this with her. Im a little spit fire some sassy pats big hearted horse crazy girl just like my gramma.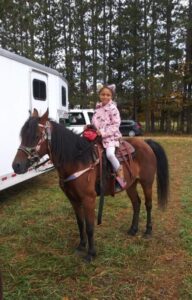 Last summer gramma traded her old barrel horse cj to get me a safe horse to learn on. She is a 15 year old quarter pony name Hottie. She has been fun to learn on. We have been doing a lot of trail riding. Gramma says it so I can learn the ropes better.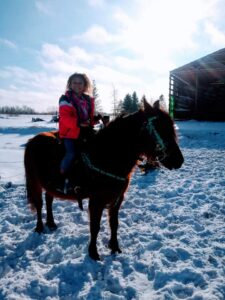 My role modle is my gramma Shelly. She works with me and Hottie to keep us safe. I want to run fast but gramma said we have to take it slow. What I want to share is horses are the best. Thanks for reading ps gramma helped me with this even told me some of what to say after all im a little girl.
Faith
My name is Faith Olson, I am a senior in high school and am already on my way to get my AS degree in Business through CIS and PSEO. After I get my degree I want to apprentice under trainers, learn as much as I can, and then start my own performance horse line and at some point maybe get into breeding!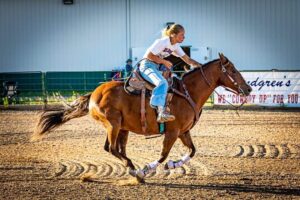 My horse's name is Tucker, he is a BLM Mustang and before I owned him he was a therapy horse. When I got him, we didn't do much, trail riding, and went to some little shows. After I moved barns I really got into barrel racing.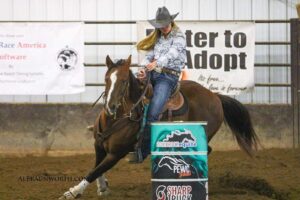 For the past few years I have been training horses at the barn I board at, after I started working with my third horse, everything changed. I fell in love with teaching horses new things and seeing how far they come from where I start with them. Every horse I learn more and more from, I take all that information and use it on the next horse. Right now I have 4 training horses, Dallas, Bristol, Legend, and Huck. I am going out of my comfort zone with Dallas and Bristol and training them for western pleasure. It has been quite the experience but they make it easy and enjoyable! Both Huck and Legend I started this year, and I am continuing to help them grow, while growing my own knowledge!
Aryssa
Hi I'm Aryssa Sirjord, I'm from Hibbing. Minnesota and I'm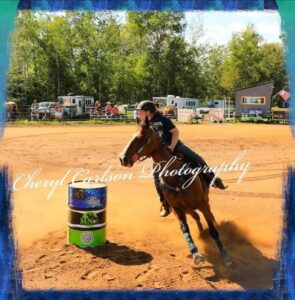 a freshmen in high school. I got into horses when I was only in kindergarten and I've been hooked ever since. Mister aka Who's Asking is the gelding I own and currently run barrels and poles on. In 2020 I made lots of accomplishments so here's a couple: I won my 1st belt buckle by being in the NBHA o6 youth 5d top 5 and I also won a custom headstall for winning the youth 4d in the Balkan Barrel Series. Some of
my goals for this year are to better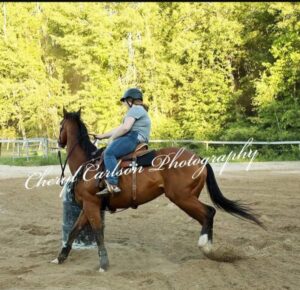 me and my horse and run some better times. I'd also like to try out Minnesota High School Rodeo. And of course have a awesome season with some sweet looking tack on my horses body.
Whitney
Hi there I'm Whitney Reed. I am 25, and a mother to a sweet, 3 year old little boy. I work full time as a riding instructor at Northwoods Arena in Solway, MN, and I train barrel horses.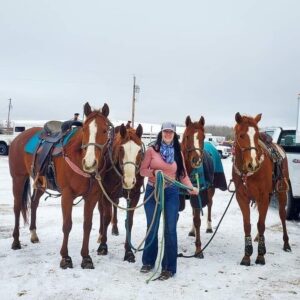 My main mount and team mate is Prada "CB Starting With Me". I got Prada given to me as a 3 year old. She was as WILD as one comes and had no desire to be any thing other than a crazy handful of red headed mare. Now she's 11, still full of herself, but she is gentle, caring and has a heart of gold. She commits everything she has into every run she makes. She has no quit in her and will give her heart and soul to me every run. She does her best to take care of us. When I thank God for my blessings I thank him twice for her. She taught me and my little sister Morgan both what it's like to be winners.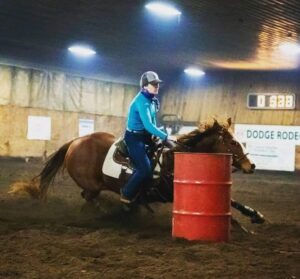 What motivated me to want to be a barrel racer? Watching my cousin Tina ride and how effortless it looked to her. Tina was my best friend and if I got to spend the night somewhere I wanted it to be at Tina's house, even if she didn't always want me there. Her mom Tana, took me with to a rodeo of theirs when I was a kid and I absolutely fell in love with the sport. I loved the crowd cheering, the horses, the speed and the energy of the competition. I begged them and my mom to let me ride and to teach me how to barrel race! Tina and Tana always let me ride "Josey" the brokest, sweetest, and easiest going bay gelding I've ever rode. Nothing could compare to the heart that horse had. I remember one time Tana took me down the state trails to long trot Josey and I started loping ahead of her. I could hear her say "slow down" but in typical Whitney fashion all I wanted to do was go fast. Josey and I ran so fast for what felt like a mile down the trail, I couldn't stop laughing and smiling as my hair blew across my face. I felt like we were flying. Once we reached the end of the trail I asked him to slow up and he of course did like the good boy he always was. I could go on for days about the adventures at aunt Tana's and cousin Tina's house. They were my second home.
 Through out my childhood I looked up to another amazing woman, someone that beat the odds more than once,
that rose up from the bottom and won that truly helped develop me into the rider, coach, and trainer I am today. That would be miss Jane Melby. She always helped teach others along her way, she never turned anyone away. I loved her heart of gold and dedication to what ever was set in front of her. Jane would always push me to be better, try a little harder, and not to give up on anything I really wanted even if I was scared. I have always looked up to her. I am thankful that over the years I've got to be apart of her story and her be a large part of mine. I am also thankful that despite her fame as an NFR barrel racer and famous trainer she never forgets about us "small town" Minnesota folk. I am blessed to call her a friend and a mentor along the way.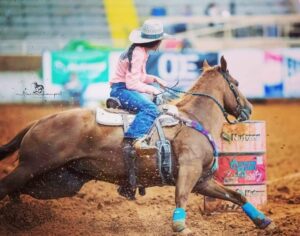 Another reason I love being apart of the barrel racing community is how many great friends I have gained from it. On any given weekend at a local jackpot its not uncommon for me to show up with my truck and trailer full of lesson students that don't have the means to haul themselves and my 2 sisters with rigs full as w
ell. Theres been times we show up with 3 rigs and over 20 head of horses to run just in our "group" of people. It brings us closer together and it's something we as a family love to do and share with our friends.
   I always say there's 3 things you should never forget growing up in the horse industry.
 #1) "Never forget who taught you to saddle your horse."
#2) "Never forget the horse that taught you how to ride."
And #3) "Never forget the horse that taught you how to win."
Karlee
I am Karlee Kate Grondahl and I am 19 years young. I was blessed with a gritty little grey mare with a heart of gold. Sheza, my mare, and I will be starting our 6th season together and let's just say that we have some big plans!!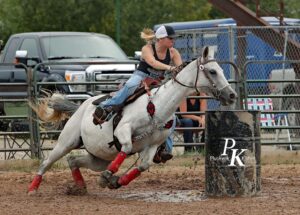 I have been riding since I was in the womb.... literally. My mom rode with me in her stomach up until I was born! I've grown up around horses and they have always been my favorite past time. I have had multiple horses and multiple disciplines, but barrel racing has always been the most fun in my opinion. My love for barrel racing grew within the last two years and I really wanted to better my barrel racing game. A wonderful women named Laura Julkowski walked into my life when I was ready to be a badass barrel racer. She has taught me so much within the short time I've known her and I personally don't think I'd be where I am without her. Not only has she pushed me to be the best barrel racer I can be, but so have the rest of the badass rodeo girls. It is truly an honor to be apart of such a empowering and positive group. I am beyond excited for this year, I'm ready for you 2021!!
Thank you, Katie. Your business is so inspiring!!
Jessica
I'm Jessica Barto from Northern Mn! I've been in the horse world for as long as I can remember, thanks to my sister teaching me how to ride and my mom taking us to all the shows!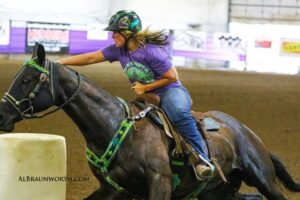 More recently I focus on barrel racing! My horse Mario- Deck Of Blue Chips and I have been a team for 3 seasons now and each year we keep improving-I couldn't be more proud! Keep an eye out for my 3 year old Hustler-Wired Amigo Cash as he enters the real horse world of riding!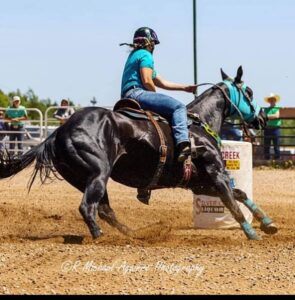 You may also see me around producing events! It all started with my home town saddle club and wanting to grow the equine industry in norther Mn! Which also lead me to being director of NBHA MN 06! On top of all that I work full time in the mines, and have 2 busy boys who love riding dirt bikes with their dad! I get asked a lot how do I find the time, honestly I am not sure! I have great help but it's not about me at all. It's about the riders who get to compete, the business who get advertising , and giving the community something to look forward to. I couldn't be more touched by those who go out of their way for others and that's what keeps me going! The reason why I love Jumping Joker Mohair goes beyond the quality of her work, beyond the creativity to complete the masterpiece you dream of, but to support another piece of the industry that keeps it growing! Katie is also a mother of two, who takes the time to make riders fabulous mohair products, she takes on any idea no matter the extra effort ! She's truly inspirational! Not only will your horse be comfortable in its mohair gear but you will have some fantastic action shots !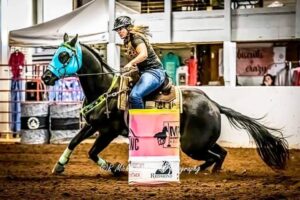 Some recent accomplishments
2019 top 5 NBHA Mn 06 open 5D-5th
2020 top 5 NBHA Mn 06 open 4D-1st
Fast N Furious 4D average -3rd
Our 2021 goals is to keep improving! Last season we hit 2D local and 3D at Pewc world finals with over 500 runners! We are going to work hard to be consistently in the 2D and hopefully get into the 1D! I have been working on self improvement because sometimes you have to look yourself in the mirror to figure out that next level part ! I also enjoy sharing my journey, I hope to inspire anyone to chase their dreams , and never give up!
Good luck to everyone! Hope to see you around ! And big thanks to Katie with Jumping Joker Mohair I truly appreciate all you do!
Tiffany
Hello, I am Tiffany, I have been riding horse my whole life. I started doing 4-H and WSCA all day shows and eventually gradually switched to just timed events and now I run mainly barrels, about twice a year I try my hand at poles and once a year I do Mothers Day playday at my local Balkan Arena.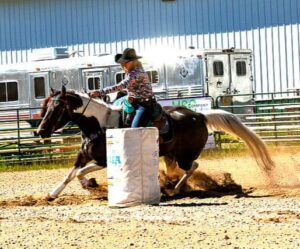 My daughter has started riding horses competitively over the past year and has almost totally taken over my AQHA mare Naughty Naughty Me (Polly). I could not be more proud and it has certainly added another layer of love and respect I never dreamed of on to this hobby called horses.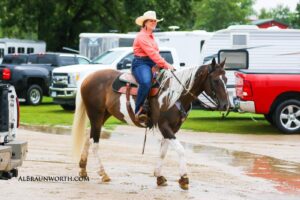 I have been riding my APHA mare , Miss Hollywood Royal (Blanche) for the past few years and she is looking to be my main focus again this year.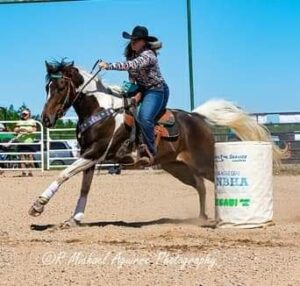 I believe horses should be fun, no matter how a person chooses to spend thier time with them. I feel so incredibly lucky to have found a circle of support like I have. From family to friends to sponsors that blur the lines between all three! This is my second year being sponsored by Jumping Joker Mohair and I am honored. I have started a small collection of mohair and it is easy to see why these products have been around for so long and why people continue to use them . So thankful you Jumping Joker Mohair and I hope everyone has some fun in 2021!
Melissa
My name is Melissa Stuckey, my main barrel horse is CC and I have two younger ones I'll be exposing this season, Greyby & Trace.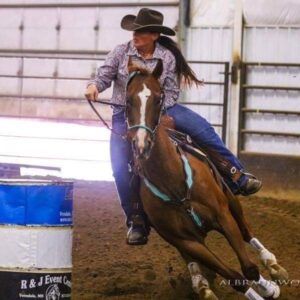 I originally started barrel racing years ago when my horse Smoky started disliking his "job" which was Dressage. We showed Dressage for many years before he started not enjoying it anymore, so instead of selling him we just changed disciplines. That's when we started barrel racing, I believe it was in 2003 ish.
Over the years I let my work load take over, so I haven't seriously competed in quite a few years until last year I was able to get out more and this year I plan to get out as much as possible to run Barrels and Pole Bending with CC and start Greyby & Trace on the patterns.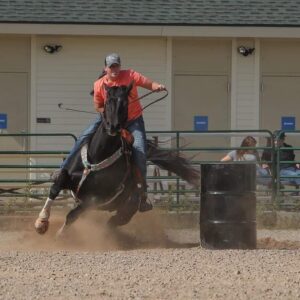 My horses are my main motivation... being able to work with them, teach them new things and vice versa. I don't want them just sitting out in the pasture anymore!
I'd have to say one of my role models is Charmayne James. I have always admired how quiet of a rider she is, how well her horses are cared for and they seem to want to run with out any gate issues or refusal.
Thank you for this wonderful sponsorship opportunity again for 2021 season !!
Kaye
Hello, my name is Kaye Collier and this is my second year being sponsored by Jumping Joker Mohair. I have been around horses all my life, started riding at a young age and truly haven't out grown the love that little girl in me has for horses.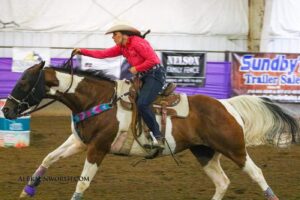 My main ride is Elvis…..aka Elvie Man, Elvie or as I like to call him my sour patch kid. Elvis has quirks no lie, but also has not had the easiest life being bounced around to multiple owners as he seems to have always been misunderstood for his behaviors resulting in the chance of Elvis being on the verge of being euthanized. Luckily stumbling upon him and now owning him for 5 years ……looking back reflecting where we both started to where we both are today is amazing progress. Seeing Elvis's demeanor, confidence and attitude change is rewarding in itself. He continues to challenge me and push me outside of my comfort zone as I also continue to strive on bonding and connecting with him more. I am proud and thankful to have such a beautiful animal to compete on and ride! Runner up is my second gal pal prospect, Belle. She may be young but she is fierce, full of personality as most little 3 year old's are. I look forward to my journey with Belle as she continues to grow and mature.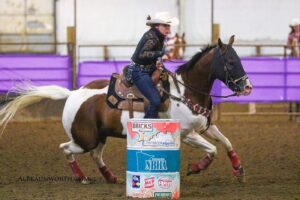 I personally love the journey it takes to get a horse to where they deserve to be both physically and mentally. I find true passion working with horses and bonding with them throughout our adventures together. Visually seeing the horse's demeanor change into a totally different calm nature is fulfillment. Any horse that ends up in my hands will have a forever home, I believe horses come into your lives for a reason as there are many challenges through life but the stability and comfort that horses provide is like no other. I guess it's the little girl in me that loves riding and having horses, they will always be a part of my life in one way or another. The adrenaline rush of barrel racing is what my heart currently chases, feeling the power of a 1200lb animal underneath you making three turns is a rush like no other. Winning or placing at a barrel race is an extra plus but the real winner is having the opportunity and the ability to ride. Every time I enter into the arena for a run my heart is filled with gratitude and excitement, having faith in my own abilities and trusting my noble steed Elvis is only just the beginning.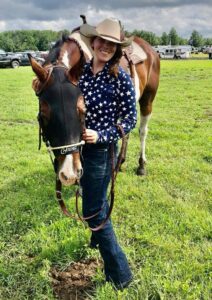 I have big plans for summer 2021, with many new adventures that I am looking forward to! I appreciate this being my second year sponsored by Jumping Joker Mohair, Katie always does amazing work and brings out the creation that you are looking for! I am excited to design more work for Katie to put together!
Laura
I am Laura Julkowski, born and raised in beautiful Orr, MN. I currently live just down the road from my childhood home with my husband and my two daughters: Chesney 6 and Harley Jo 3. I am a stay-at-home mom and professional barrel racer.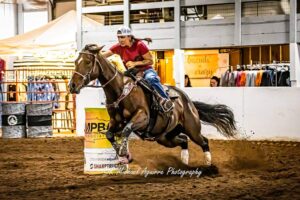 I own and operate Badass Rodeo Company. We specialize in online barrel racing coaching – we have an amazing group of hardworking and badass girls! I have also written a barrel racing book/journal called Barrel Racing is Life. The book and other goodies are available on my website, badassrodeo.com.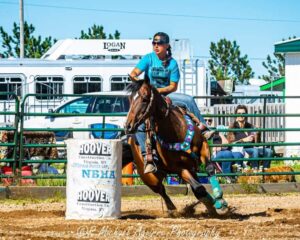 I currently ride a 7-year-old mare by A Streak Of Fling named Fortunes Fling (aka Poppy). I also have another mare I am working with named MS Mountain Gator (watch out for her in the barrel pen!) and a yearling, Firewater Stones.
I love my Jumping Joker Mohair tack and am acquiring quite a collection. The quality is the best I have seen, and Katie is absolutely wonderful to work with.
I am excited to work with Katie again this year and be a part of her team. I am happy to have her a part of my team as well! THANK YOU JUMPING JOKER MOHAIR!!!
Jumping Joker Mohair 2020 Sponsored Riders
Jessica and Mario